The Summit Club of Flower Mound does more than just cook hotdogs.
From the Leader….  Read full story here
"Soon the Summit Club began doing more. For each of the last four years it has provided money into a $25,000 endowment at North Central Texas College (NCTC) so the school can provide a scholarship to a Flower Mound student attending NCTC.
The scholarship covers the cost of the student's books for a year.
Now the Summit Club is working on raising enough money for a second scholarship. Forest said the goal is to have enough in the endowment to offer one scholarship to a male student and one to a female student.
Next, the Summ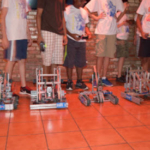 it Club began sponsoring the robotics clubs at each middle school and high school in Flower Mound that have a club."