The Summit Club was honored as the 2018 recipient of the Flower Mound Outstanding Citizenship Award in the group category.
From the Cross Timbers Gazette
https://www.crosstimbersgazette.com/2018/12/17/flower-mound-recognizes-citizen-group-and-lifetime-award-winners/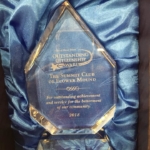 The Summit Club of Flower Mound is the oldest fraternal organization in town. It's a service organization comprised of community leaders and hard working men dedicated to serving others. It supports many charities and organizations serving the Flower Mound community.
"Recently, they even started to cook something other than hot dogs [at community events]," said Lawson, laughing. "I asked them to start cooking veggie burgers … and they did."
Accepting the award was its longtime president, Deputy Mayor Pro Tem Claudio Forest.
"The Summit Club's been around since 1974," he said. "They give up their time, their heart and soul. What we do, we do for this town and the charities we support. The first Saturday in March, is our big annual fundraiser, Western Saloon Night."