Payouts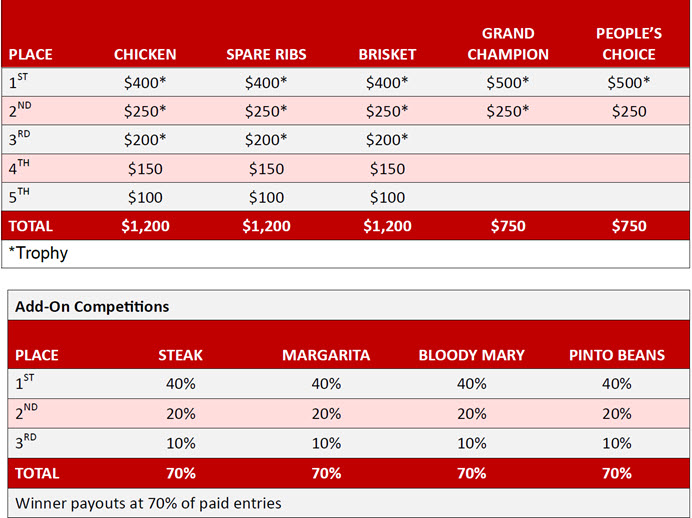 Rules
Contest Rules:
Lonestar Barbeque Society rules apply – LSBBQS Rules.  You do not have to be a member of the Lonestar Barbeque Society to enter this cook-off (although you really should become a member).
Site Rules:
Thank you for your interest in Participating in the Flower Mound Smoke Fest.  This October's event will be at Parker Square, in Flower Mound, TX in the parking lot behind Midwestern State University.  We look to build upon last May's success with additional space for more competitors.  We are limiting the event to no more than 45 teams.
FM Smoke Fest Leadership will provide communication to registered teams leading up to the competition date as details get worked out.  As you begin planning, please make note of a few items.
All Teams are expected to compete in the People's Choice Competition. Teams may serve anything they choose, provided competition meats are not served prior to turn in.
Team Check In begins Friday at 3:00. The event concludes after the award ceremony on Saturday, at which time, teams will be permitted to leave.  There will be no early departures on Saturday.
Head Cook or representative must attend Cooks Meeting at 7:00 PM Friday evening.
Head Cooks are responsible for the cleanliness of their area and the conduct of their teams. Overnight security will be onsite.  Quiet time from Fri. 11:00 pm through 8:00 AM Sat.
Street Level Event. All teams will be located in a fenced-in parking lot.  Each team, on their arrival will be assigned a set up location that will be roughly 26 x 18 feet, basically three parking spaces.  There will be a limited number of locations for teams with larger, trailer mounted, cookers.  If your unit needs exceptional space, please email info@FMSmokeFest.com with details prior to registering.
Cookers: Electric grills are not allowed (except for beans).  Heat source must come from wood (pellet grills are allowed).
Teams furnish their own meat, wood, sauce, etc.
Bring your own ice and generator, power is not provided. Camper hookups are not available.
Each Team will receive 4 event wrist bands for team members, additional bands may be purchased for $25 each.
Town Health Inspector will be on site. Teams must adhere to all Town ordinances.  Permit fees are being paid by the organizers.
Personal Vehicles will be parked away from the cook team locations. No golf carts, four wheelers, or motorized vehicles are permitted in the fenced in Cook Team area
Hotel Rooms are available at the nearby Marriott Courtyard RiverWalk with special event rates available.

QUESTIONS?

   INFO@FMSmokeFest.com

Sincerely,
The FM Smoke Fest Leadership team

Turn In Times 

(Subject to change)

 

  
| | | |
| --- | --- | --- |
| Friday    | Rib Eye Steaks |  8:00 PM      |
| | Margaritas | 9:00 PM |
| | | |
| Saturday                        | Bloody Mary's | 10:00 AM |
| | Pinto Beans | 12:00 Noon |
| | Chicken  | 1:30 PM |
| | Pork Spare Ribs | 3:00 PM |
| | Brisket | 4:30 PM |
| | People's Choice | 5:00 PM |
Additional Information
PEOPLES CHOICE
All teams are expected to compete in the People's Choice Competition (PCC).
Teams should be ready to serve People's Choice items at 12:30 when gates open to the public
Teams may serve anything they wish provided it has been prepared and cooked on site.
Competition meats may not be served prior to turn in.
Each team will be given a sealed container to collect People's Choice Coins.
Containers must be turned in, un-opened at 5:00 PM Saturday
Evidence of tampering will result in disqualification from PCC.
Teams are not allowed to combine coins.
At Turn in, containers will be opened and coins counted by the PCC judge in the presence of the team representative.
The Team Rep will be told their coin count before they leave and the coin count will be written down by the assistant judge.
Team Rep will witness and initial the entry.
STEAK COMPETITION
Steaks must be boneless Rib Eye Steak.
One, uncut steak shall be turned in by each participating team.
Steaks must be turned in without sauce or garnish.
Steaks will be judged on appearance, doneness (medium rare), and taste
 MARGARITAS
Margarita turn in will include four, 4 oz, servings.
Team choice to add salt or not.
Garnish is allowed.
Judging will be based on appearance and taste
BLOODY MARYS
Turn in will include four, 8 oz servings
Garnish is allowed.
Judging will be based on appearance and taste
PINTO BEANS
See Lone Star BBQ Society Rules.