Payouts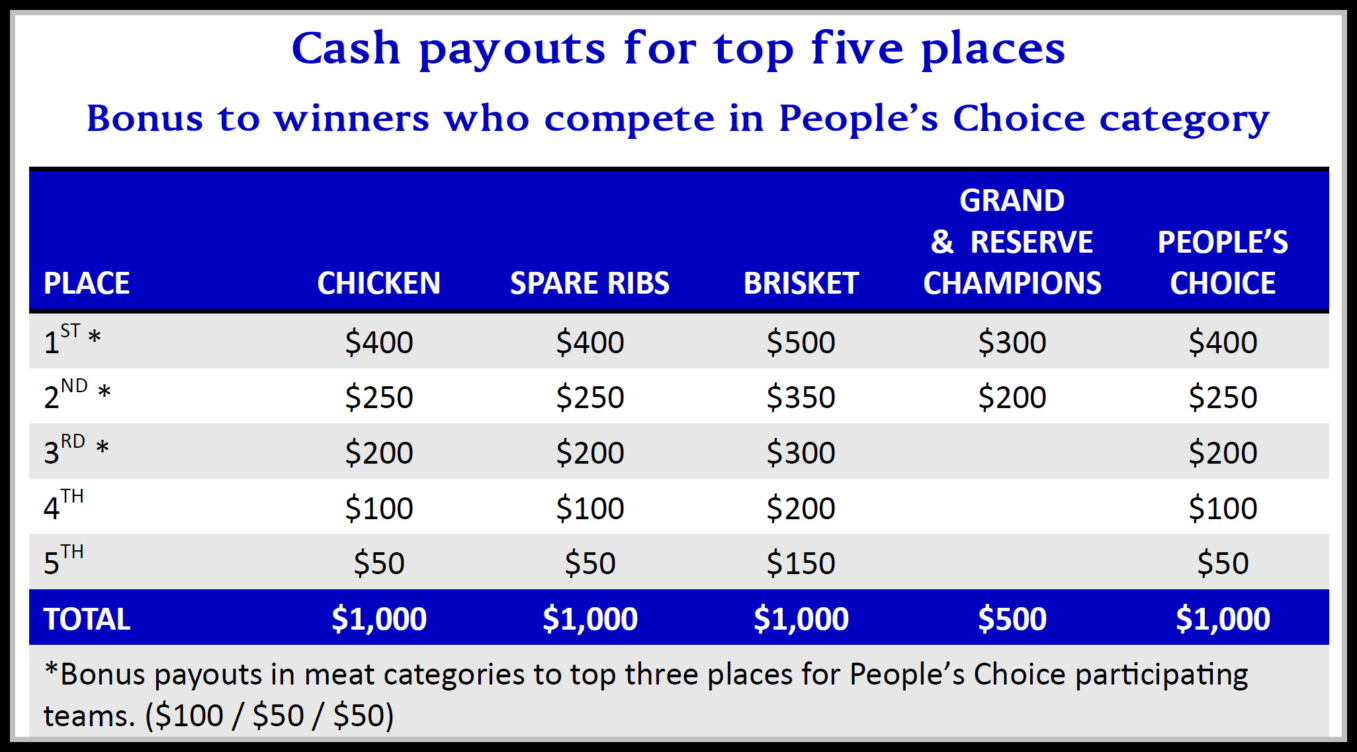 Grand Prize Bonus is awarded based on total team points for judged  entries, Chicken, Pork Spare Ribs and Brisket.  People's Choice prizes are determined by the number of votes (tickets) placed in each competitors' bucket.  Doors will be open to the public at 12:30 PM  Sunday, May 16th.  Plan to have something fresh coming off of the smoker, all afternoon.  If you don't have something tasty for attendees to sample, you can't win the Peoples' Choice Award.
Rules
Contest Rules:
Lonestar Barbeque Society rules apply – LSBBQS Rules.  You do not have to be a member of the Lonestar Barbeque Society to enter this cook-off (although you really should become a member).
Site Rules:
ALL TEAMS  are expected to participate in the People's Choice Competition. Teams may offer samples of any competition meat they chose.
TOWN HEALTH INSPECTOR  will be on site for code enforcement. Teams must adhere to Town health code ordinances. Flower Mound permit fees for teams are being paid by the event organizers.
HEAD COOK  or representative must attend the Head Cook meeting at 7:00 PM Saturday May 15th.
BRING  your own generator, power will not be provided.
COOKERS:  Electric grills are not allowed, heat source must come from wood (pellet grills are allowed).
TEAMS  are to furnish their own meats and supplies.
HEAD COOKS  are responsible for the cleanliness of their area and for their team's conduct.
MISCONDUCT  or violations of these or LSBS rules may lead to disqualification.
HOTEL ROOMS  are available at the Marriott Courtyard at a discounted rate, just mention Smoke Fest.
FOR SAFETY REASONS, TEAMS ARE NOT ALLOWED TO LEAVE UNTIL THE PUBLIC HAS LEFT THE EVENT. NO VEHICLES WILL BE ALLOWED TO REMAIN ON THE PARKING DECK.

QUESTIONS?   INFO@FMSmokeFest.com
Times
Entry Fee:  $150

Location:  Marriott Courtyard Parking Garage
4330 Courtyard Way
Flower Mound, TX
Judging:  Chicken, Spare Ribs & Brisket
Sanctioned by
Lonestar Barbeque Society –  RULES
SATURDAY:
Team Check In
3:00 – 6:30 PM
Pit Boss Meeting
Head Cook Meeting (mandatory)
7:00 PM
SUNDAY Turn In Times

*

Beans
11:30 AM
 
Chicken
1:00 PM
Pork Spare Ribs
2:30 PM
Brisket
4:00 PM
Peoples' Choice Coin Turn In
5:00 PM
Winners Announced
5:30 PM
* Judging times are subject to change by the judging coordinator.